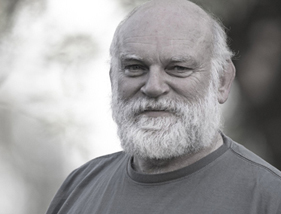 Throughout my life, I've felt a deep connection to nature. At an early age, I expressed that connection by doodling with pencil and paper the animals my parents took me to see at the Field Museum and the Lincoln Park Zoo. My professional studio training at the School of the Art Institute of Chicago expanded my range of media to include oil painting and sculpture, and my subsequent work in Wisconsin's forestry industry immersed me further in the natural world. My work as an architectural custom carpenter further expanded my artistic skills.

All of these influences came together about 25 years ago as I began carving detailed, lifelike birds. My works earned permanent places in the collections of prestigious institutions including Maryland's Ward Museum of Wildfowl Art.

In the early 1990s, my bird-carving efforts led me to begin sculpting less detailed, more expressive bronze bird sculptures, which joined the collections not only of the Ward but also such art museums as the Bennington Center in Vermont and Wisconsin's Leigh Yawkey Woodson Art Museum. These works, in turn, provided a pathway toward my current creations: expressive limited-edition bronzes of wildlife ranging from bison to bighorn sheep, musk oxen to polar bears. I research all these sculptures first-hand in the wild, taking extensive photographs—as well as collecting river rocks that I have begun to incorporate into my animal sculptures, underscoring their connection to the natural world.

In every artwork I create, I strive to distill the essence of my subject, to capture its gestures, personality, and character correctly through the expressive powers of my medium. Most of the bronze process is done in my own studio, because I believe that such attention to detail at every stage of the process, start to finish, enables me to stay as true as possible both to my subject and to my vision of it as an artist.

Pete's most recent honor was given this last Fall (2013) in Jackson Wyoming where he was awarded the Bob Kuhn award!!